Companies are facing an increasingly tech-based market. In response to the changing landscape, and to remain relevant and profitable, they're turning to software solutions. But, software solutions are intangible and hard for businesses to define, let alone understand. And, it's difficult to make software solutions a reality, even in their best form. Businesses need someone who understands their problem well enough to define the right solution, think holistically and strategically about its design and development, and ultimately deliver a usable product.
A product manager's role can be difficult to nail down, feeling nebulous at times. The truth is that they inhabit many critical roles and operate in a complex and agile environment. The product manager works as the nucleus of the product and project, owning the holistic strategy, management, and communication responsibilities that drive productive relationships internally and externally; translating engineering concepts and language to a non-engineering customer, providing insight, driving strategy for a customer's solution, and providing a marketable and sales-ready product.
---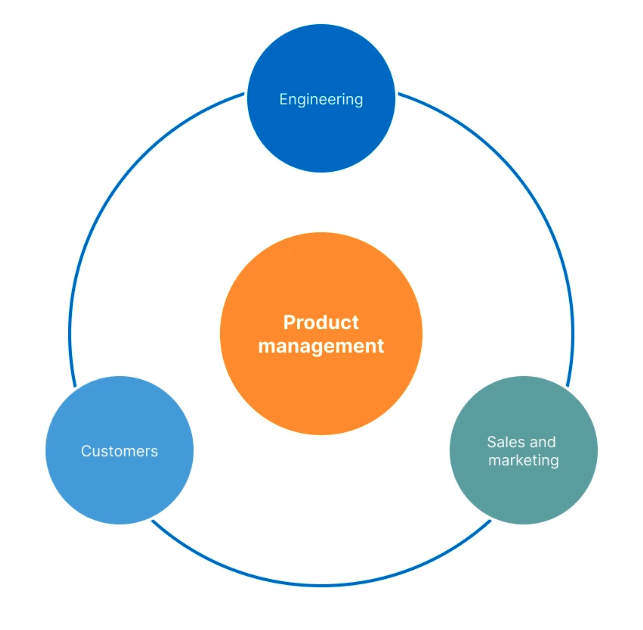 ---
Let's have a look at three key areas of product management expertise:
Discovery & Development
Management
Communication
Discovery & Development
Show the client what's possible. Guide the client beyond their original vision.
One of the product manager's first responsibilities is to understand and define the business need, user expectation and experience, and the value to both. The product manager defines a solution based on their understanding – distilling many ideas down to one, communicates that to the client and guides the client through the entire process. They develop the initial direction of the product, defining requirements, setting expectations, and determining workflow. The product manager also operates in agile development to continue to develop redefined priorities as they learn more about the customer's needs and user's experience.
Management
Deliver value through allowing others to deliver value.2
That sounds like circular talk, but it means product managers are experts in managing teams and harnessing their talents, prioritizing efforts, and reallocating funds and energies when necessary. They own collaborative relationships and project connections to drive and organize the work that needs to be done AND avoid the work that doesn't. This allows the team to stay focused, avoid wasted energy and time on a project and deliver on the expectations and requirements they established. They manage the team and partnerships from ideation and completion, defining and delivering on milestones and project touchpoints, to deliver the most successful product on time and on budget, meeting the needs of the business and the user.
Communication
Develop rich understanding and partnership across teams.
Product managers are expert communicators. They understand the cross-team connections and nuances in communication that are necessary to drive an efficient and (not to say the least) happy team. Their communication management and mitigation shorten the communication to action loop. They translate feedback into direction, make decisions on behalf of the client, make compromises to make tasks more pragmatic, and make the ultimate judgment call on where to spend money and allocate resources.
The product manager also operates as the client and engineer go-between. They are responsible for communicating both ways, providing clarification to the client when needed, and shielding the production team from distracting and potentially confusing communication from clients.
The value of a product manager is derived from their ability to be strategic and tactical. Their role is necessarily focused on delivering functional products that meet specific requirements by maximizing resources and managing relationships. A product manager really shines when they take a holistic view of the product lifecycle and efficiently deliver a well-developed, on-brand product. Although their skills seem to border on intangible, the value of their talents and execution is measured in the satisfaction of a user's delightful experience!
Read more about the value of the right Transformation Team for your technology solution!
Trying to find the right technology expert? Read about how to evaluate your potential solutions partner.
---
1. What is Product Management?
2. How do we measure the value of a Product Manager?