In insurance, customers trust you to put their needs and the needs of their families in your hands. How are you addressing your customer's needs?
Technology drives necessary digital transformation in the insurance community. It helps insurance companies meet the challenge of the modern consumer and market by offering digital experiences that provide information, capabilities and the support customers require. At the core of this experience is a holistic and strategic UX design, providing the foundation of an empathetic, logical, operational and scalable solution that delivers the efficient processes needed, the experience customers expect, and consumer trust that leads to loyalty.
According to UXDA, Gartner reports that 41% of insurance interactions resulted in a negative outcome, almost as much as those who reported a positive outcome.1
People make decisions based on trust. Trust is established through experience. Increasingly tech-savvy insurance customers expect seamless and straightforward experiences when making purchases, claims, and communicating with agents. It is imperative that insurance companies meet customers on equal footing.
The interface insureds use must deliver critical information and enable users to handle their insurance policies quicker and easier than making a call to an agent. The technology supporting this experience should be novel, comfortable, and efficient. How can you integrate the experience?
Focus on user-centered navigation and carefully curated content – utilize milestones in the experience to reinforce clarity with relevant information or relatable stories.
Speak to the customer in their language – avoid industry speak and jargon.
Make communication and interaction simple and intuitive – direct user experiences based on need and support their journey with relevant information and documentation.
Provide easy and accessible communication lines – if customers need support or guidance, make it simple and direct.
---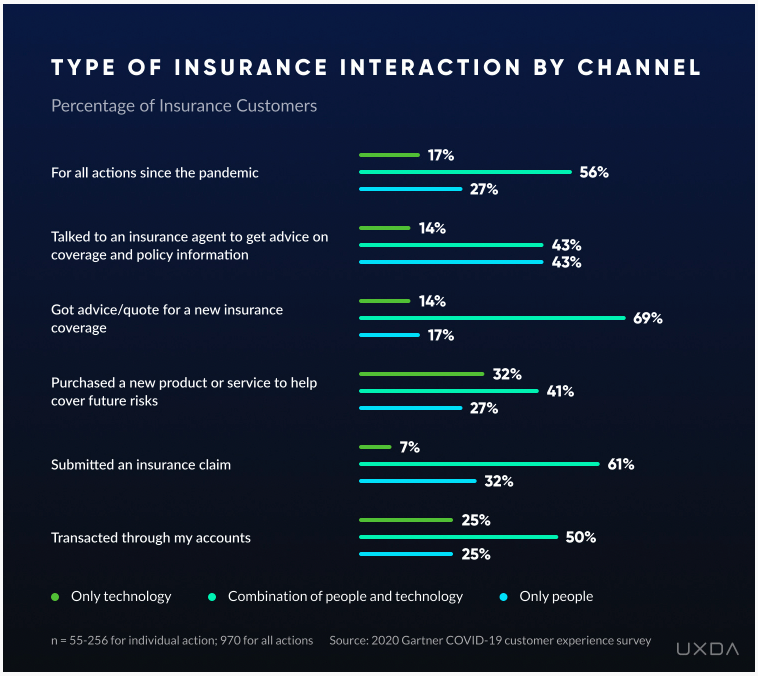 ---
UX Design is the Key
Empathetic customer-experience design addresses what a customer needs from their specific interaction. Consumers will use your technology solution for several reasons and with differing motives. It is your responsibility to address their needs and prove why you are the right insurance partner for them and their family. How do you approach some specifics?
Increase focus on personalization and customization when making purchases or selecting plans – provide the sense of control, be transparent, offer comparative opportunities.
Understand the emotion surrounding a claims event and the claims experience – provide an empathetic approach, sensitive to process and language.
Communicate efficiently and create new touchpoints holistically – consider customer sensitivity to emails, notifications, and alerts, offer engagement that fits their expectation.
Create intuitive, easy and comfortable experiences – user interaction should be mapped to channel experience and simple and intuitive to keep the user relaxed, unconfused and confident in their experience.
Good UX design is at the heart of the integrated, personalized, empathetic experience expected from insurance technology. Essentially, your tool, strategically designed, provides good customer service. That experience develops the trust that drives a great experience, loyalty and referral business.